EMPIRE GYM
COVID-SAFE CLASSES
Safety, attention to detail and multiple levels and layers of mitigation make Empire Gym a COVID-Safe gym-class training environment.
You will always be a minimum of 2 metres away from your nearest fellow participant in all directions.
Maximum class sizes have been reduced from 20 to just 9 plus the instructor, giving everyone 10 square meters of space on average.
1.8 metre high x 1 metre wide toughened safety glass shields separate all participants and work areas.
There is permanent fresh air exchange via our sophisticated air management systems.
All classes are on a 'short-format' 30-minute duration, so to reduce time around others while never compromising the quality and effectiveness of brilliant, professional classes with the best instructors in the business.
Indoor Cycle classes will be made even more hygienic by having 2 sets of bikes that will be rotated for cleaning and sterilisation.
So, when you arrive, you will know your bike has been cleaned and sterilised. The same applies to steps and mats.
See our 'Empire Gym Gold Standard' document on the home page of the website for even more scrupulous detail about the way Empire Gym is fully prepared to be COVID-Safe
Member Class Rate
£FREE
Non-member Class Rate
£6.00*
*50p of every class fee will be donated to The Sue Ryder Thorpe Hall Hospice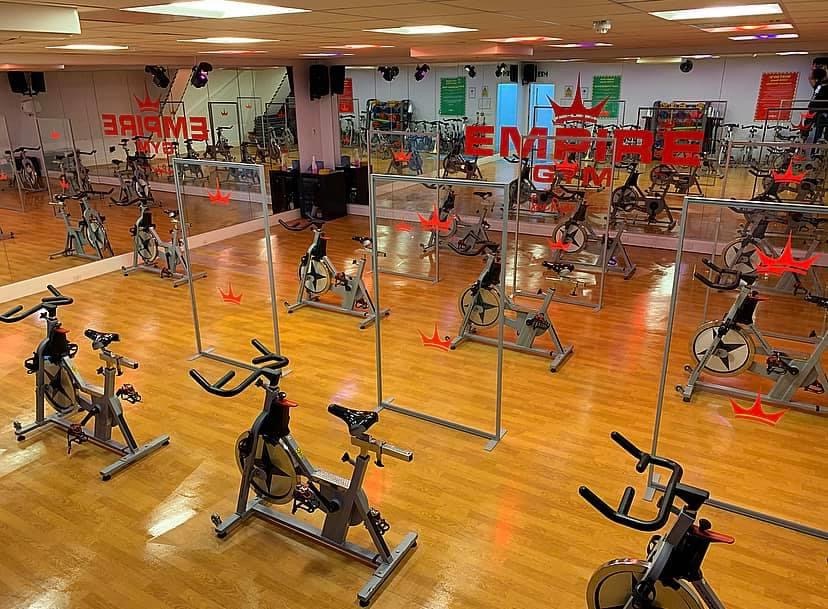 COVID-SAFE CLASS TIMETABLE
Evening:
6:45pm – 7:15pm – Les Mills SPRINT Cycle
8:00pm – 8:30pm – Les Mills RPM Cycle
Evening:
6:45pm – 7:15pm –Les Mills Bodypump
8:00pm – 8:30pm –HIITSTEP
Evening:
6:45pm – 7:15pm – HIITSTEP
8.00pm – 8:30pm – Les Mills SPRINT Cycle
Evening:
6:45pm – 7:15pm – Les Mills Bodypump
8:00pm – 8:30pm – Les Mills RPM Cycle
Evening:
6:45pm – 7:15pm – HIITSTEP
Morning:
9:30am – 10:00am – HIITSTEP
Morning:
9:30am – 10:00am – Core Burnout
EMPIRE MAX 10 HIIT CIRCUITS
On the gym floor! 10 participants, 10 stations, 30 seconds work, 10 seconds rest – Twice! True high intensity interval training (HIIT) using a wide range of functional and gym equipment and bodyweight exercises. All exercises are explained and demonstrated. For all abilities as exercises can be adapted and changed to suit. MAX EFFORT MAX RESULTS!
LES MILLS RPM INDOOR CYCLE
RPM is a group indoor cycling workout where you control the intensity. It's fun, low impact and you can burn up to 675 calories a session. With great music pumping and the group spinning as one, your instructor takes you on a journey of hill climbs, sprints and flat riding.
In an RPM workout you repeatedly spin the pedals to reach your cardio peak then ease back down, keeping pace with the pack to lift your personal performance and boost your cardio fitness. RPM is a great way to build up your sense of personal achievement. You can draw on the group's energy and find your rhythm in the music. You control your own resistance levels and speed so you can build up your fitness level over time. It's a journey, not a race!
LES MILLS SPRINT INDOOR HIIT CYCLE
LES MILLS SPRINT is a 30-minute High-Intensity Interval Training (HIIT) workout, using an indoor bike to achieve fast results. It's a short, intense style of training where the thrill and motivation comes from pushing your physical and mental limits. A high intensity, low impact workout, it's scientifically proven to return rapid results.
The 30 minutes you put into a LES MILLS SPRINT workout drives your body to burn calories for hours. You combine bursts of intensity, where you work as hard as possible, with periods of rest that prepare you for the next effort. The payoff? You smash your fitness goals, fast.
LES MILLS BODYPUMP
BODYPUMP is THE ORIGINAL BARBELL CLASS, the ideal workout for anyone looking to get lean, toned and fit – fast. Using light to moderate weights with lots of repetition, BODYPUMP gives you a total body workout. It will burn up to 540 calories.
Instructors will coach you through the scientifically-backed moves and techniques pumping out encouragement, motivation and great music – helping you achieve much more than on your own! You'll leave the class feeling challenged and motivated, ready to come back for more.
CORE BURNOUT
As the name suggests! A class for the core! 45 minutes of sit ups, crunches, rotations, twists, holds and planks a plenty! Upstairs in the first floor Revolution Room where mats are provided, but if you want, you can bring your own.
LES MILLS BODYBALANCE
Ideal for anyone and everyone, BODYBALANCE is the yoga-based class that will improve your mind, your body and your life.
During BODYBALANCE an inspired soundtrack plays as you bend and stretch through a series of simple yoga moves and embrace elements of Tai Chi and Pilates. Breathing control is a part of all the exercises, and instructors will always provide options for those just getting started. You'll strengthen your entire body and leave the class feeling calm and centered. Happy.
HIITSTEP
HIITSTEP is an innovative 30 minute HIIT exercise class using only bodyweight and a STEP. It has been developed using the expertise and experience from those that have competed for and worked with Team GB!
Designed to bespoke soundtracks that have been created by some of the UK's top House DJs, HIITSTEP is a high energy class that pushes you to NEW limits.
METAFIT
Formed by a former Royal Marine Commando and an international gymnast in 2010, Metafit is the original group X HIIT workout. 30 minute, non-choreographed, bodyweight only workouts that set the metabolism on fire.
BOXERCISE
Boxercise is an exercise concept based on the training methods used by boxers. Sessions typically involve hitting focus pads but no class involves hitting an opponent. It is a fun, challenging and safe workout which is great for stress busting, accessible to all ages and fitness levels.