EMPIRE GYM
CLASS TIMETABLE
STUDIO & gym based CLASSES
Empire Gym classes are back with a vengeance!
Sensibly managed numbers, air exchange and air conditioning, and hand sanitisation all still in place, but the legendary Empire atmosphere is returning to its effervescent best.
Classes, all free as part of membership, and available to non-members too, provided by the highest quality, friendly and professional instructors, who will guide, teach, inspire and motivate you to achieve the goals you aspire to. Or indeed, just help you have a really good time!
Classes are for all abilities, for people from 16 to any age, with members in their 80's taking part!
Member Class Rate
£FREE
Non-member Class Rate
£6.00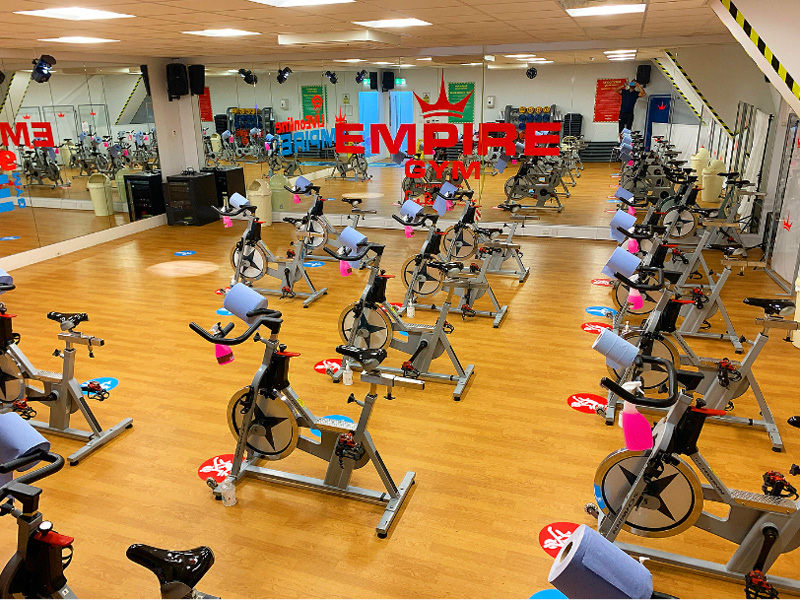 9:30am – 10:15am – LES MILLS BODYPUMP – Pauline Davies
5:45pm – 6:30pm – LESS MILLS RPM – Pauline Davies
6:45pm – 7:15pm –  LESS MILLS RPM 'EXPRESS' – Pauline Davies
7:30pm – 8:15pm –  LESS MILLS BODYBALANCE – Pauline Davies
9:30am – 10:00am – FUNCTIONAL GYM CIRCUIT – Matt Weston
5:45pm – 6:30pm – LESS MILLS RPM-  Pauline Davies
7:00pm – 7:45pm – HIITCIRCUIT – Chris Shingles
9:30am – 10:15am – LES MILLS RPM – Pauline Davies
5:30pm – 6:00pm – LES MILLS RPM 'EXPRESS'  – Pauline Davies
6:30pm – 7:15pm – HIITCARDIO – Chris Shingles
9:30pm – 10:00pm – FUNCTIONAL GYM CIRCUIT – Matt Weston
12:00pm – 1:00pm – SENIOR CIRCUITS – Matt Weston
5:45pm – 6:30pm – LES MILLS RPM – Pauline Davies
6:45pm – 7:15pm – LES MILLS BODYPUMP 'EXPRESS' – Pauline Davies
7:30pm – 8:15pm – LES MILLS BODYBALANCE' – Pauline Davies
9:30am – 10:15am – LES MILLS BODYPUMP – Pauline Davies
6:00pm – 6:30pm – FUNCTIONAL GYM CIRCUIT – Matt Weston
8:30am – 9:15am – HIITSTEP – Chris Shingles
9:00am – 9:30am – FUNCTIONAL GYM CIRCUIT – Matt Weston
LES MILLS RPM INDOOR CYCLE
RPM is a group indoor cycling workout where you control the intensity. It's fun, low impact and you can burn up to 675 calories a session. With great music pumping and the group spinning as one, your instructor takes you on a journey of hill climbs, sprints and flat riding.
In an RPM workout you repeatedly spin the pedals to reach your cardio peak then ease back down, keeping pace with the pack to lift your personal performance and boost your cardio fitness. RPM is a great way to build up your sense of personal achievement. You can draw on the group's energy and find your rhythm in the music. You control your own resistance levels and speed so you can build up your fitness level over time. It's a journey, not a race!
LES MILLS BODYPUMP
BODYPUMP is THE ORIGINAL BARBELL CLASS, the ideal workout for anyone looking to get lean, toned and fit – fast. Using light to moderate weights with lots of repetition, BODYPUMP gives you a total body workout. It will burn up to 540 calories.
Instructors will coach you through the scientifically-backed moves and techniques pumping out encouragement, motivation and great music – helping you achieve much more than on your own! You'll leave the class feeling challenged and motivated, ready to come back for more.
LES MILLS BODYBALANCE
Ideal for anyone and everyone, BODYBALANCE is the yoga-based class that will improve your mind, your body and your life.
During BODYBALANCE an inspired soundtrack plays as you bend and stretch through a series of simple yoga moves and embrace elements of Tai Chi and Pilates. Breathing control is a part of all the exercises, and instructors will always provide options for those just getting started. You'll strengthen your entire body and leave the class feeling calm and centered. Happy.
Les Mills 'Express' CLASSES
Les Mills 'Express' classes at Empire Gym are the same high quality Les Mills classes you know and trust, only shorter, at 30 minutes! This means, not only are they convenient, but if you are a beginner you can come into a shorter class format and find your way, while if you are familiar with the class, it's a chance to raise your level and attack the class with extra drive and gusto for a shorter time'
HIITCIRCUIT
HIITCIRCUIT is a 30-minute super intense HIIT workout, designed to build muscle, increase power and burn hundreds of calories. This workout uses a barbell, weight plate, step and bodyweight exercises to provide you with the all-round ultimate workout. The HIITCIRCUIT workout contains voice over music tracks and pre-designed training sessions allowing instructors to deliver inspirational and motivational workouts.
HIITSTEP
HIITSTEP is an innovative 30 minute HIIT exercise class using only bodyweight and a STEP. It has been developed using the expertise and experience from those that have competed for and worked with Team GB!
Designed to bespoke soundtracks that have been created by some of the UK's top House DJs, HIITSTEP is a high energy class that pushes you to NEW limits.
HIITCARDIO
The HIIT Company brand, brings you the world's greatest HIIT workouts, created by Olympians, for you. The workouts are designed to shred fat and help you reach peak fitness. The key to getting the most out of your HIIT workouts is to give 100%, so motivational, energetic music is key. The combination of high intensity exercises and house music allows you to immerse yourself in this enjoyable but intense fitness experience which needs no equipment!
SENIOR CIRCUIT SESSION
On the gym floor, we set aside a session dedicated solely to up to 20 'senior' participants allowing people to take part in a full body 'circuit' using a wide range of equipment and gym pieces while ensuring equipment cleaning and distancing can take place. This class will be targeted at a pace suitable for all and of course options will be available dependent upon ability.
Functional Gym Circuits
On the newly laid out Empire Gym floor, this class brings the gym to fitness classes and fitness classes to the gym.
Functional/Cross training style, diverse, rugged and innovative, every class is different. With a circuit training format.
You use barbells, Ski Ergs, GHD's, Bike Ergs, Sleds, Rowing machines, battle ropes, interspersed with body weight movement and so much more.
Get ready for the full experience.
High quality training, in a high quality environment with high intensity.
Most importantly, a friendly, supportive atmosphere and team ethic.
Are you up for it?